In a recent conversation with
Samir Chopra of Eye on Cricket
, Karsan Ghavri's name cropped up from my side. That triggered a few memories - pleasant ones - in me. I thought I'd reord them in this journal before they are completely erased.
Karsan Ghavri was a southpaw. He blasted with the bat as an elegant lefty and bowled left-handed too. It was Ghavri's bowling which brought him into the aforesaid conversation. He could bowl everything - from left arm medium pace swing, equipped with a mean faster one when he was younger, to slow left arm orthodox. He wasn't very tall, but had broad shoulders, wide chest and a huge heart beating in it for his team. There is one curious fact about Karsan Ghavri: he partnered young Kapil Dev in about 27 Test matches in an opening combination and together they never once allowed a century partnership to happen. Now how's that for an effective opening combo? Also, he was the first Indian left arm pacer to pick up 100 Test wickets. But I'm getting ahead of myself here.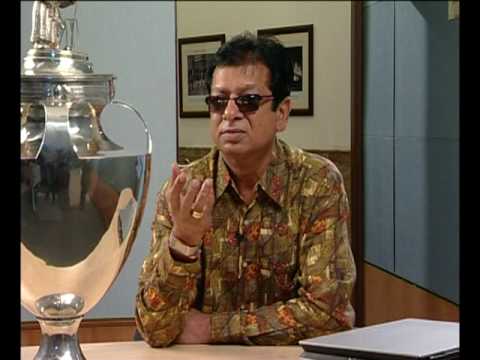 Before Kapil Dev launched himself from an Indian cricketing outpost, the philosophy of Indian bowling attack revolved, for some reason, around spin. There was a tendency to reduce opening bowlers to mere ball shine-removers. Rarely were pacers given a complete chance to express themselves with the complete range of skills at their command, especially in Tests played at home. Yet the tribe didn't die out - they simmered like hot embers in the domestic set up and a few of them flared occasionally on the international stage when the wind was just right. It was in such a scenario that Karsan Ghavri played his cricket. Mohinder Amarnath and Madan Lal were his regular partners in the Indian team before Kapil arrived. However, it was mostly musical chairs for the pacers, with spinners claiming first right to bowling slots. So when batting needed to be strengthened, out went a pacer and Amarnath or even Gavaskar doubled up as shine-removers for the odd over or two before spin set in. Those were peculiar times when spinners even opened the bowling for India with a bright red shiny cherry. Today, such a one-eyed philosophy of attack would be considered outrageous...even foolish.
Ghavri's bowling was complimentary to Kapil's, and often the spinners. He may not have picked up international wickets by the bushels but he had a mean faster one...usually a deceptive bouncer...with which he used to rein in the best of the adventurous batsmen who fancied an advance towards him down the pitch. He could swing the ball both ways and when the conditions were favourable, he'd be more dangerous. His career is one where the couple of wickets he'd pick up would be key wickets and at just the right time. Who can forget the role he played in the Melbourne Test in 80-81, which India won to square a Test series in Australia for the first time. His performance in that Test was overshadowed by more spoken about events such as, the Gavaskar Walk upto the boundary line and Kapil Dev's steamrolling of the Aussies despite being in fever. In that match, when Australia needed a mere 143 runs to win, Ghavri came up with twin strikes of John Dyson and Greg Chappell. It need not be emphasized that Greg Chappell was the best batsman of that line-up and Dyson could be a stodgy customer. Kapil Dev then finished up the rest for an Australian total of 83 and a series levelling victory for India.
His other asset was his batting. Not only could he drop anchor usefully to partner in a rearguard action, he could also step on it if required. With Syed Kirmani he formed a doughty lower order unwilling to quit easily. Talking about his batting takes me back to a 1977 Ranji match between Bombay and Delhi at Ferozeshah Kotla which I had the opportunity to watch.
Joga Rao was a good friend of my father. Bombay were coming to Delhi to play a Ranji match. He was due to comment for AIR. Those were the days when the copuntry's best participated in Ranji trophy and took great pride in performing well for their teams. Of course, I understand times have changed and perhaps it may be difficult for newer generations to recapture the excitement cricket enthusiasts used to feel during the Ranji season or understand the same. Ranji matches were fiercely competitive, well attended...I have seen
laathis
used by securitymen at Kotla during Ranji matches and even minor stampedes when the gates were thrown open for the day. Being a member of a cricket club perhaps was also responsible in bringing the Ranji experience closer to me. There was much discussion on various aspects of all players and collective opportunities were sought for a club excursion to watch the matches. But I also had a cricket loving father and his group of cricket frenzied friends as well. So domestic season was as important as the international one.
There was some needle between Bishan Bedi and Sunny bhai before this Ranji encounter. At least the media was leading everyone to believe so. There were murmurs about some Indian players and their likely Kerry Packer interests. By some quirk of media reporting, Sunnybhai was cast in the role of a potential mutineer and Bedi was said to be leading the traditionalists. Another media angle, a more muted one, suggested that both Sunny and Bedi were contemplating. One doesn't know what the truth of the matter is, but Sunnybhai wasn't one to let down his country and neither was Bedi. But that's how the media was painting things to be.
Normally, Delhi-Bombay encounters always key up the players and supporters. Under the prevailing rumors and in the light of the upcoming India tour of Australia, Delhi was waiting to give a 'warm reception' to Sunnybhai. The media had done just enough whispering to allow the impression to gain ground that Sunny bhai was on the verge. Another thing, Sunny was still remembered for his Prudential Cup '75 innings.
So when Bedi came on early and bottled him up quickly, nearly all hell broke loose at Kotla. On lithe sardar with a black turban near me was ready at the staricase leading from the ground to the pavilion, ready with some Punjabi fun topoke at Snny as he'd walk up the stairs. Sure enough, that's ow it happened and to the surprise of of all of us, Sunn bhai, instead of ignoring the provocation, stopped and turned dangerously to face the the surdy boy, with a dare to say things on his face. Naurally, surdyboy there leapt back with alacrity. I did say he was lithe. So that was an indicator of the level of interest, competitiveness and involvement of eveybody. It's another matter that Sunny again was dismissed cheaply by Bedi in the second innings and there wasn't so much fuss then.
Delhi itself foundered against Ghavri, Madan Lal fighting to inch Delhi as close to Bombay as possible. Shouts of Maddipa! Maddipa! rang around the Kotla whenever he scored a run and bhangra would break out whenever he boundaried. Maddipa scored 41 valuable runs with Surinder Khanna, the Delhi and India keeper, and the portly Rakesh Shukla, the veteran Delhi leggie who also played one Test for India and was an able batsman as well.
Ranji Trophy had great presence back then and full houses were quite frequent on all days of play. India players took great pride and enjoyed playing for their teams. Especially when teams such as Karnataka, Bombay, Tamil Nadu or any of the Zones were visiting, the crowds would be following on and off the ground, transistor radios to their ears.
Earlier, Surinder Amarnath and Chetan Chauhan had laid the foundation for a total but Hari Gidwani (who later migrated to Bihar and Bengal I think), Jimmy Amarnath, Venkat Sunderam (the long-serving Delhi opener) couldn't quite contribute. It was actually Vinay Lamba, Delhi's middle order batting all rounder who began the fightback, but he too fell after a start.
Coming back to Ghavri, he took six Delhi wickets, constantly pegging Delhi back with critically timed wickets with his wickedish left-arm pace, but Madan 'Maddipa' Lal had still brought Delhi to within 26 runs of Bombay's 317. It was stirring stuff and the crowd was in good, uncynical spirits again. The match was on even keel again after Delhi appeared to have let it slip following Bombay's first innings dismissal for a struggling total. Maddipa had taken three and Bedi, four. Delhi needed to do one better than they did in the first innings and bowl Bombay out to win the match. Batting fourth on the pitch against the likes of Shivalkar would be hellish anyway.
Delhi's spinners struck - between them, Bedi, Chauhan and Shukla snared all but one Bombay wicket. Suresh Luthra snared the one that got away with his medium pace. Bombay were pretty down at one time, regularly losing wickets to be five down for just about a hundred-odd runs. The stands were ecstatic, anticipatory...Delhi were on top. In stepped Karsan Ghavri at six-down, with only a limpid Bombay tail to follow - and he batted!
If there is any innings I reember of anyone, it is this Karsan Ghavri knock. Not just because I had to take swift evasive ation whenone of his sixes thudded into the chair behind me through a trajectory which might have gone dead centre of my face, but because it as singlehanded commandeering of the innings with brilliant farming of the strike. His 70-80 odd came next to no time and I guess his partners didn't score five together! Bombay were living again!
The 200-odd Bombay scored second with the 26 run lead from the first was formidable runs when you consider that Shivalkar (as good or better than Bedi) would be bowling to Delhi in the fourth innings. Covering of the pitch wasn't yet the norm those days and wear and tear made itself felt in the match. Delhi had a solid line-up, but it hadn't clicked....and on top of it, Ghavri was on a high.
Just two blows more Ghavri struck - Chetan Chauhan and Maddipa - Delhi's two Test class players and in-form batsmen, dismissed or a single each by Karsan Devjibhai.
Padmakar Shivalkar feasted on the rest and Delhi was minced meat on theirown skewer and roasted to perfection over coals of anguish.
If I remember Karsan Ghavri for anything, it is this match. It was the highest quality of cricket played and so thoroughly competitive that you could be forgiven to think it was an international match of the calibre of India-Australia or India-Pakitan. Such was the glory of Ranji Trophy at one time and such was Karsan Ghavri.